Introduction
When it comes to conducting an exceptional interview, there are a few key things to keep in mind in order to ensure that the process goes smoothly and that you get the most out of it. Here are a few tips to help you conduct an exceptional interview:

1. Do your research

Before you even step into the interview room, it is crucial that you do your research on the company, the role, and the candidate. This will not only help you to ask more informed questions but will also give you a better understanding of what the company is looking for and whether or not the candidate is a good fit.

2. Prepare your questions in advance

While it is important to be flexible and allow the conversation to flow naturally, it is also helpful to have a list of prepared questions in advance. This will ensure that you cover all of the bases and get the information that you need from the candidate.

3. Be engaging and present

Interviews can be long and sometimes tedious, but it is important that you remain engaged throughout the process. Pay attention to what the candidate is saying and make sure to ask follow-up questions where appropriate. Additionally, try to avoid getting distracted by other things going on in the room or your own thoughts – focus on being present in the moment.

4. Listen more than you speak

One of the biggest mistakes that people make during interviews is talking too much. It is important to let the candidate do most
The benefits of interviews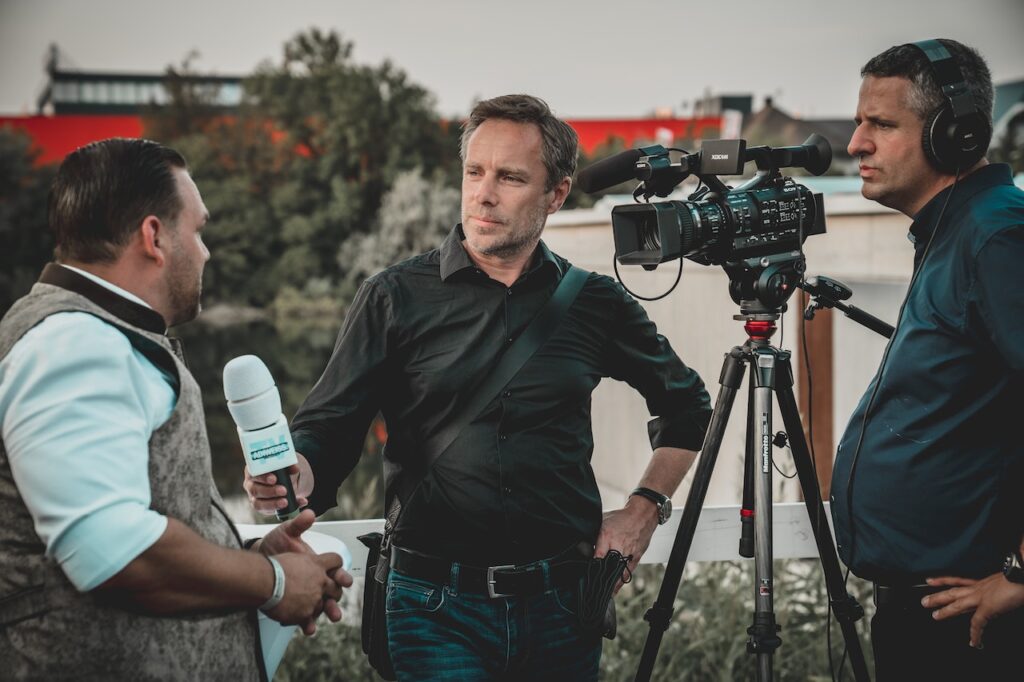 Interviews can be a great way to get to know someone. They can help you learn about a person's experiences, their thoughts on various topics, and their overall personality. Additionally, interviews can help build rapport and trust between you and the interviewee.
How to serve your audience with your interviews
When you're conducting an interview, it's important to serve your audience by providing them with information that is both interesting and relevant. Here are a few tips to help you do just that:

1. Ask probing questions. Be sure to ask questions that will elicit thoughtful responses from your interviewee. Avoid yes or no questions, and try to steer clear of leading questions.

2. Listen carefully. It's important to pay attention to what your interviewee is saying so that you can accurately relay their answers to your audience. This also allows you to follow up with additional questions if necessary.

3. Keep an open mind. Be receptive to what your interviewee has to say, even if it isn't what you were expecting. This open-mindedness will come across in your interviews and make them more relatable for your audience.

4. Be prepared. Before conducting an interview, take some time to research both your subject and your audience. This way, you can tailor your questions and approach to best serve those who will be listening in.

By following these tips, you can ensure that your interviews are both informative and enjoyable for all who listen in.
What homework you need to do pre-interview
When you're scheduling an interview, be sure to ask the candidate what homework they need to do in advance. This will help you ensure that the interviewee is prepared for the meeting and can hit the ground running.

Some examples of pre-interview homework include:

-Researching the company and its mission/values
-Preparing a list of questions to ask the interviewer
-Studying up on common interview questions and practicing responses
-Printing out a copy of their resume

Asking the candidate what they need to do in advance shows that you're organized and prepared, and it sets the tone for a productive meeting. By being specific about what you expect, you'll get more out of the interview and be able to better assess whether the candidate is a good fit for the job.
The types of questions open-ended and follow-up questions to ask your interviewee
Whether you're a seasoned interviewer or brand new to the process, it's important to ask the right questions during an interview. This will help ensure that you glean the most information possible from your interviewee.

There are two types of questions you should ask during an interview: open-ended and follow-up questions. Open-ended questions are those that cannot be answered with a simple yes or no. They require the interviewee to elaborate on their answer. Follow-up questions are asked after the interviewee has given their initial answer in order to further explore a particular topic.

Here are some examples of open-ended and follow-up questions to ask your interviewee:

-What led you to pursue a career in XYZ?
-What have been some of the biggest challenges you've faced in your role?
-What is your favorite part of your job?
-What does a typical day look like for you?

If the interviewee mentions something specific in their response, be sure to ask a follow-up question about it. For example, if they mention a challenging project they spearheaded, you could ask how they went about tackling it and what the results were. Or if they describe their love for customer interaction, you could inquire about a time when they had to diffuse a difficult customer service issue.

Asking both open-ended and follow-up questions will
How to create a warm, welcoming interview environment
When it comes to interviews, first impressions matter. Creating a warm and welcoming environment from the start will put your interviewee at ease and make them more likely to open up and share their story with you. Here are a few tips for creating a hospitable interview space:

-Make sure you have a comfortable place to sit set up before your interviewee arrives. This will show that you're prepared and organized, and puts your interviewee at ease knowing they won't have to search for a seat.
-If you're conducting the interview in person, offer your interviewee something to drink when they arrive. A cup of coffee or tea can go a long way in making someone feel comfortable.
-Start the conversation off with some small talk. This helps break the ice and gets rid of any awkwardness that may be present.
-Be sure to smile throughout the conversation – it'll make both you and your interviewee feel more relaxed.
-Finally, thank your interviewee for their time once the conversation is finished. letting them know that their input is appreciated will leave them with a positive impression of both you and the company.
Ways to give space and opportunity to your interviewee
When conducting an interview, it is important to give your interviewee the space and opportunity to share their story. Here are a few ways you can do this:

1. Ask open-ended questions: Avoid yes or no questions, and instead ask questions that encourage your interviewee to share more about their experiences.

2. Listen actively: Pay attention to what your interviewee is saying, and resist the urge to interrupt or interject. Show that you are listening by making eye contact and nodding your head occasionally.

3. Follow up: After your interviewee has answered a question, follow up with a related question or comment. This shows that you are engaged in the conversation and interested in learning more.

4. Allow silences: Don't feel like you need to fill every silence with talking. Sometimes, giving your interviewee the time and space to think will result in them sharing more thoughtful and insightful answers.
The importance of listening
In order to conduct an exceptional interview, it is important to listen carefully to what the candidate has to say. This way, you can get a sense of the candidate's personality and whether they would be a good fit for the position. Listening also allows you to ask follow-up questions that can help you learn more about the candidate.
Why you should emphasize understanding
When you're conducting an interview, it's important to emphasize understanding. This means listening carefully to the answers given and asking follow-up questions to ensure that you understand what the interviewee is saying. It also means being respectful and not interrupting the interviewee. By emphasizing understanding, you'll be able to get more information from the interview and make a better impression on the interviewee.
The tools to use for high-quality production
When it comes to high-quality production, there are certain tools you should use in order to ensure a great outcome. Here are some tips:

– Use a good microphone: This is one of the most important tools for good audio quality. Make sure to get a microphone that is able to capture all the nuances of your voice.

– Use a quiet room: Another important tool for good audio quality is using a quiet room for your recording. This will help minimize any background noise that can interfere with your recording.

– Use editing software: Once you have recorded your interview, you will want to edit it to make sure it sounds its best. There are many different software programs available for this purpose. Find one that works well for you and that you feel comfortable using.
An interview is your chance to make a great impression on a potential employer. But there are some things you should never do if you want to make the best possible impression. Here are some things you should never do in an interview:

1. Don't be late. This one is important. Arriving late to an interview conveys a lack of respect and professionalism. If you know you're going to be running late, call the interviewer and let them know.

2. Don't dress inappropriately. First impressions are important, and what you wear to an interview says a lot about you as a professional. Make sure your clothing is clean and pressed, and avoid anything too casual or revealing.

3. Don't answer your phone or check your messages during the interview. This shows a lack of focus and respect for the person interviewing you. Turn off your phone before the interview starts, and resist the urge to check it during breaks in the conversation.

4. Don't badmouth your current or previous employers. No matter how much you may dislike your current job, it's important to keep negative comments about past employers to yourself during an interview. This makes you look unprofessional and difficult to work with.

5. Don't ask about vacation time or benefits during the first interview. These topics are important, but they can wait until later in the hiring process. Asking about them too soon makes it seem like you're more interested in perks than in doing
And how to have a little fun too
An interview can be a nerve-wracking experience, but it doesn't have to be all business. In fact, one of the best ways to put your interviewee at ease is to show that you're a human being too. Here are a few tips for how to add a little fun to your next interview:

1. Start with a icebreaker question. This can be something as simple as asking about their weekend plans or what they like to do for fun.

2. Throughout the interview, make sure to smile and maintain eye contact. This will show that you're interested in what they have to say and create a more relaxed atmosphere.

3. At the end of the interview, thank your interviewee for their time and let them know that you enjoyed speaking with them. This will leave them with a positive impression of you and the company.